Club Activities
The Enchanted Poodle Club has regular meetings. Please contact Barbara Timmcke for more information about meetings.
Normally, on Mother's Day Weekend we organize two Poodle Specialty Shows as part of the New Mexico Combined Specialty Association. This year the shows are canceled, but we will be looking forward to having our show again in 2021.
We also participate in the Doggie Dash and Dawdle, and the Corrales Harvest Festival, both of which are in the fall. Barbara Timmcke will also have more information about these events when available.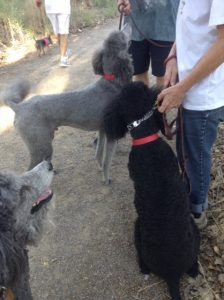 Poodle Walks: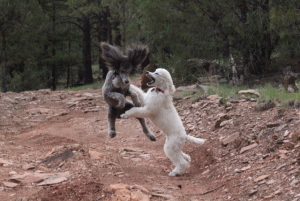 Until recently, every Sunday morning a few of us get together for a walk with poodles.
We have to suspend our Poodle Walks, but we'll look forward to starting our walks again when we are able to do so.
Anyone who wants to meet poodles is welcome. To get on (or off) the email list write to enchantedpoodleclub@gmail.com.
Dog Sports:
The Poodle's versatility makes it ideal for practically any activity! All three varieties of Poodles can participate, with the only limitation being their size.
OBEDIENCE
This is basic training that's required before participating in almost any other activity with your Poodle. Novice obedience is important for your dog to be a good member of the household, too. Your Poodle will learn commands for sit, down, come, stay, stand, and fetch. With these basics your dog can build on, you can now teach him/her higher levels of obedience such as going over jumps, retrieving on command or signal and finding an object with your scent on it.
TRACKING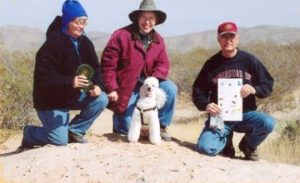 Poodles love tracking and excel at it. They're taught to follow a scent through rough terrain to find a person or an object.
AGILITY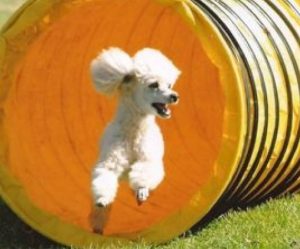 Agility is a competitive canine athletic event in which dogs are required to go through a series of jumps, obstacles, and climbs in a specific order under a specified time. Poodles love the excitement of varied tasks and working closely with you. You definitely want to have a Poodle with sound structure and temperament for this sport.
FLYBALL
This is a competitive team canine sport. The dog jumps a series of hurdles to get to the flyball box where it trips a lever which releases the ball. The dog catches the ball and returns over the hurdles to the handler. This is a timed event. Poodles with high energy love this sport.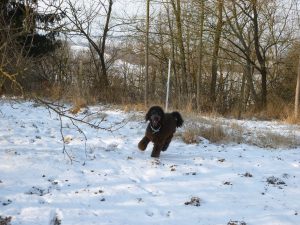 HUNTING
Poodles were originally a hunting dog, so this is what they were bred to do. The Poodle is allowed to participate in AKC hunt tests and field trials for Sprting Dogs. Poodle Club of America offers Hunt tests at the National Show each year.
SEARCH AND RESCUE
This is a demanding exercise of the dog and handler. The training is intense. The Poodle must learn to find a human in all types of terrain and weather.
CONFORMATION SHOWING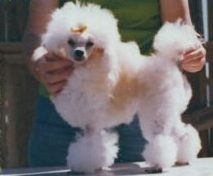 The handler must be willing to keep up a very long coat on the dog as well as teach the Poodle to pose and gait. He/she (or a handler) must present the Poodle to a judge while showing off the best points of that Poodle. Only one dog and one bitch will win points to its AKC championship at each show; additionally, there is only one Best of Breed winner per show. After spending hours getting the Poodle ready to show, your dog may or may not win that day. A person really must enjoy endless brushing, bathing and coat care to participate in this sport. You must be able to smile with the losses as well as the wins.
JUNIOR SHOWMANSHIP|
This is a competitive event where young people (under 18 years old) handle their dog in the show ring and are judged against each other in their skill at handling and presentation of the dog to the judge.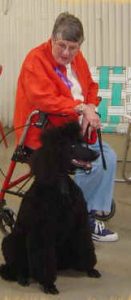 SERVICE DOG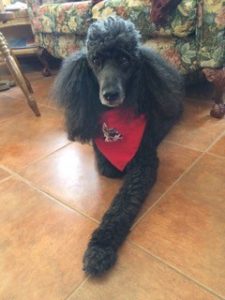 The Poodle is taught basic obedience and then taught to alert the owner to the phone ringing or doorbell for a hearing service dog. There are assistant Poodles that reach things for the owner or pick up things for the owner and carry things for the owner.
THERAPY DOG
Therapy is an activity in which a dog is used for the health benefit of people. After training, the dogs visit nursing homes, hospitals, or confined patients. It is well established that petting a dog benefits the lowering of blood pressure. The presence of a Poodle can bring a withdrawn person out to pet the dog. A therapy dog must be gentle, quiet and under control.
HERDING
Herding is an upcoming sport for Poodles, especially Standard Poodles. Many Poodles have natural herding instincts that can be encouraged to make a herding dog or a competitive herding dog.
MISCELLANEOUS ACTIVITIES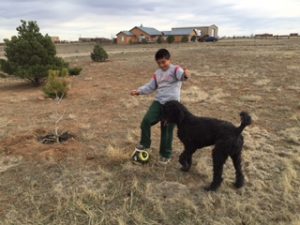 Hiking or jogging with your Poodle.
Tricks can be taught to your Poodle. Poodles are the original trick dogs.
Poodles love the snow so there is Skiing, and Sledding.
Scent Hurdles in which the dog goes over hurdles to find a dumbbell that the owner has handled and return over the hurdles with the dumbbell.
Charity Walks with your Poodle.
Team Obedience with a group of Poodles or other breeds.
Dancing with your Poodle is a fun way to enjoy each other and music.
INFORMATION RESOURCES
It is important to remember that basic obedience training comes first, then choose the activity that fits your life style and enjoy.  More performance information can be located on the following sites:
There are many books on training for the variety of activities you can enjoy with your Poodle.  Join a local obedience, all breed or Poodle club for additional assistance.